Bishop's Dinner
February 2003
Every year in Bishop Job hosts a benefit dinner for the support of Diocesan projects. This years dinner was for the benefit of our eight Seminarians. Because of illness Bishop was not present. The photo shows Fr. Andrew with Archimandrite Zacchaeus who is Dean of St. Catherine Church in Moscow Russia. St. Catherine's is the Representative parish of the Orthodox Church in America to the Moscow Patriarchate. http://www.st-catherine.ru The photo below shows Diocesan Clergy who attended the event. It was held in the Russian Tea Time Restaurant in downtown Chicago.
Children's Memorial For the Space Shuttle Columbia
February 2003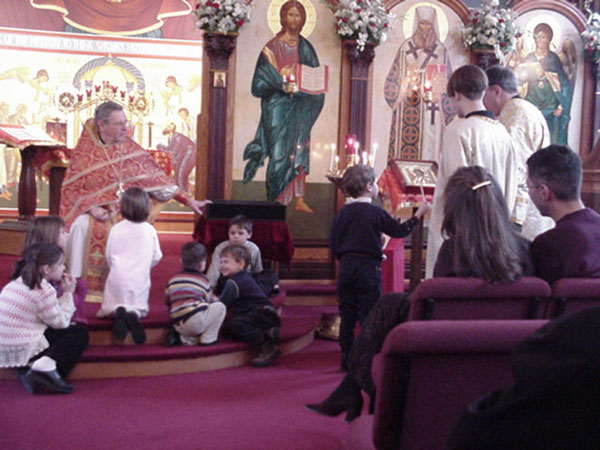 As frequent visitors to our page know, the children's sermons are among my favorites. Today Father Andrew began by explaining the Presentation of Christ into the Temple. He told the children that when Christ was presented to Simeon in the temple, Simeon stated that Christ was the Light of the world. This he explained was one of the reasons that we light candles. The light of the candle reminds us of that light by which Christ illuminates our souls. There are many reasons that we light candles. click here for article of lighting candles.Another reason we light candles is to remember those who have died and to pray for their eternal rest. Father talked about the crash of the space shuttle, Columbia and each of the children lit a candle for those who perished in the crash. Above and below we see pictures of the children lighting their candles.
Signs of Spiritual Health
February 2003
As we go thru life, there are events that link our lives to the church. Weddings, and crismations are two such events. When a parish has a lot of these events occuring it is a sign that the parish is alive and well. Thanks to God's Blessing, such is the case at St. Luke. Above we see Christine and Richard during the ceremony of crowning which is a part of the Orthodox wedding ceremony. Below we see the priest leading the bride and groom in a procession around the cross.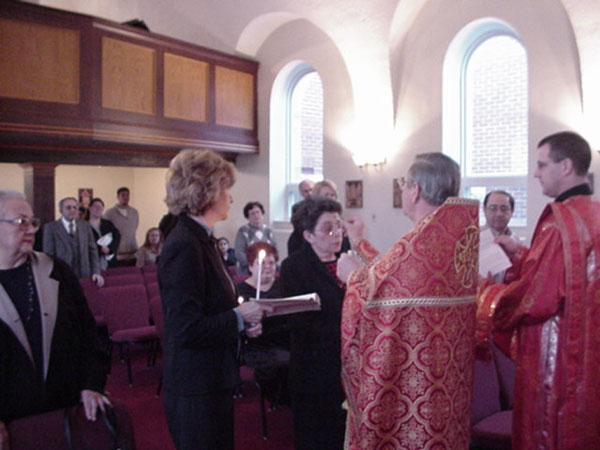 Today before Divine Liturgy, Susan was crismated and received as a new member of the Orthodox Church. Above we see Father Andrew annointing her while below we see Susan on bended knee receiving blessing and forgiveness of sins.
At the end of Liturgy, Susan receives the Body and Blood of our Lord and Father Andrew blesses her marriage.